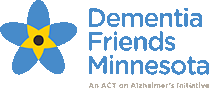 Dementia Friends Champion Training is December 19, 2017 in Hendricks, MN.
December 19, 2017
9:30 a.m. – 11:30 a.m.
This training is offered at no cost
Please register by December 15, 2017
Location:
Hendricks Nursing Home – East Lounge
503 E. Lincoln Street
Hendricks, MN 56136
Register Today: Follow this link to register. 
https://www.surveymonkey.com/r/XFKP572
Dementia Friends Champion Training will equip you with the knowledge and activities needed to facilitate a Dementia Friends Information Session with community members.
An information Session is a face-to-face session that lasts approximately one hour and is run by a Dementia Friends Champion.  It covers the five key messages everyone should know about dementia through activities and discussion.
The goal of the Dementia Friends Information Session is to help community members understand dementia and the small things they can do to make a difference for people living with dementia.
Learn more at: http://www.actonalz.org/dementia-friends