MNRAAA Participates in Dementia Friends
Minnesota has a new tag line. As of the end of 2017, Minnesota is now the Land of 10,225 Dementia Friends. MNRAAA is proud to be a part of this accomplishment by recording a total of 1,291 Dementia Friends, 944 of which were trained in 2017.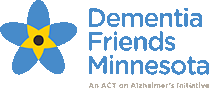 Dementia Friends is a global movement that is changing the way people think, act, and talk about dementia. By helping everyone in a community understand what dementia is and how it affects people, each of us can make a difference for people touched by dementia.
To become a Dementia Friend, you participate in a one-hour information session presented by a Dementia Friends Champion. You will learn five key messages about dementia and a bit about what it's like to live with dementia. As a Dementia Friend, you turn your new understanding of dementia into a practical action that can help people living in your community. Your action can be big or small – because every action counts!
To find a Dementia Friends Information Session in your community visit http://actonalz.org/dementia-friends-information-sessions.
MNRAAA, the Land of 1,291 Dementia Friends! How high can we go in 2018?
https://mnraaa.org/wp-content/uploads/2018/02/MNRAAA-Annual-Report-2017-Dementia.jpg
337
1200
Kelly Wolle
https://mnraaa.org/wp-content/uploads/2016/04/mnraaa.png
Kelly Wolle
2018-02-22 16:29:27
2018-02-22 17:22:13
MNRAAA Participates in Dementia Friends