2030 Community Conversations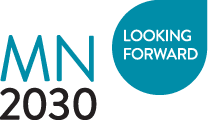 The year is 2030. Imagine you are 85. You live in your own home and may or may not have family to support you. You take medications, have chronic health conditions and need assistance to maintain your independence.
What does your home look like? Are you receiving services? What services are working well and what services are not working so well? What does your community look like? What needs to happen now to shape the range of services and supports that we want as we grow older?
In 2017, MNRAAA partnered with the Minnesota Department of Human Services, to look ahead to the year 2030, and here's why:
In the years between 2010 and 2030, 10,000 baby boomers are turning 65 every day!
Only 5% of the older population lives in long-term care facilities. The other 95% are either living independently or are being cared for by family members.
2030 marks the year baby boomers begin turning 85!
Using a small group process, Program Development and Coordination staff conducted eight Community Conversations throughout MNRAAA's twenty-seven county service area. Participants in the conversations included older adults, family members, service providers, elected officials, minority communities, et. al. The information gathered was reported to the state and will be used to identify the policy issues individuals believe are most important to our future as an older society.
On December 13, 2017, Kari Bensen, executive director of the Minnesota Board on Aging, reported on the preliminary findings and top themes from the 2030 Community Conversations held around the state. Top themes in rank order included:
Community and Healthcare
Housing
Transportation
Respect and Social Inclusion
Communication and Information
Social Participation
Outdoor Spaces and Buildings
Civic Participation and Employment
Benson noted in her report, "We know that the best future for older adults in Minnesota is one developed by stakeholders. We spent 2017 engaging partners across the state for greater impact." She added, "We will be spending 2018 testing Goals and Priorities and developing Strategies and Action Steps with stakeholders across the state to develop a plan that will guide us to 2030."
If you missed the 2030 Community Conversation in your area, you can still provide input by completing a survey at http://surveys.dhs.state.mn.us/snapwebhost/s.asp?k=149581989669. To learn more about MN 2030, visit https://mn.gov/dhs/mn2030.
https://mnraaa.org/wp-content/uploads/2016/04/mnraaa.png
0
0
Kelly Wolle
https://mnraaa.org/wp-content/uploads/2016/04/mnraaa.png
Kelly Wolle
2018-02-22 16:20:33
2018-02-22 17:23:09
2030 Community Conversations