New Medicare Cards in 2018
Excerpt from 2018 Health Care Choices for Minnesotans on Medicare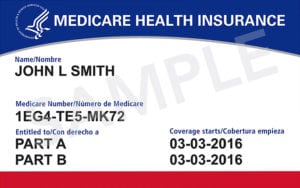 Medicare will be issuing new Medicare cards next year. The new cards will have a new Medicare number that is unique to you, instead of using your Social Security number. This change will help to prevent fraud, fight identity theft and protect private information.
Those on Medicare will automatically receive a new card mailed to the address that Social Security has on file. Contact Social Security if you need to verify your address.
People will start receiving new Medicare cards in April 2018.
All Medicare cards will be replaced by April 2019.
New Medicare cards will be issued with a new unique, randomly-assigned number called a Medicare Beneficiary Identifier (MBI).
The MBI will replace the existing Social Security-based Health Insurance Claim Number (HICN) both on the cards and in various government and health care systems.
Railroad Retirement Board retirees will also receive new cards.
Healthcare providers will be able to look up the new MBI through a secure tool at the point of service.

There will be a 21-month transition period where all healthcare providers will be able to use either number for billing purposes.
Call the Senior LinkAge Line at 1-800-333-2433 if you have questions about the new Medicare cards or for free help with other Medicare-related issues.
The Senior LinkAge Line is a free statewide service of the Minnesota Board on Aging and Area Agencies on Aging. The Senior LinkAge Line is the federally-designated State Health Insurance Assistance Program (SHIP) for Minnesota and is the place to call for Medicare and health insurance issues. Call 1-800-333-2433 for assistance or go to www.MinnesotaHelp.info® to chat live with a Senior LinkAge Line specialist.
https://mnraaa.org/wp-content/uploads/2016/04/mnraaa.png
0
0
Kelly Wolle
https://mnraaa.org/wp-content/uploads/2016/04/mnraaa.png
Kelly Wolle
2018-02-23 20:22:41
2020-08-17 08:40:50
New Medicare Cards in 2018